By Lynn A. Kirshbaum, Deputy Director of the Combined Heat and Power Alliance
Last week, the CHP Alliance released a new report, CHP and a Changing Climate: Reducing Emissions and Improving Resilience. The report examines CHP's role as a climate change solution because of its ability to reduce emissions and serve as a reliable energy resource, providing electric and thermal energy even as climate change impacts cause electric grid disruptions.
Energy and Emissions Savings Associated with CHP
Source: ICF. "Combined Heat and Power Potential for Carbon Emission Reductions: National Assessment 2020-2050." July 2020, p. 8. http://consortia.myescenter.com/CHP/ESC_CHP_Emissions-Full_Study-ICF-071320.pdf
CHP can play a significant role in decarbonizing the electricity, buildings, and industrial sectors: in almost all regions of the U.S., except for California and New York, CHP systems installed through 2035 and operating through 2050 are expected to cause a net reduction in carbon emissions over their system life. Because CHP systems require less fuel inputs for the same energy outputs, they reduce all types of emissions, including greenhouse gases such as carbon, criteria pollutants, and hazardous air pollutants. In some examples, CHP systems can have 50% less annual carbon emissions than conventional electricity generation.
Avoided Power with CHP for an Example Utility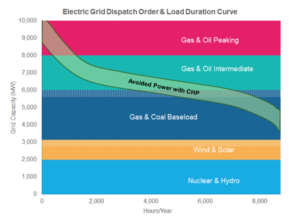 Source: ICF. "Combined Heat and Power Potential for Carbon Emission Reductions: National Assessment 2020-2050." July 2020, p. 7. http://consortia.myescenter.com/CHP/ESC_CHP_Emissions-Full_Study-ICF-071320.pdf
In addition, CHP's high capacity factor allows CHP to displace high-emitting marginal grid resources for more hours than would be possible for wind or solar. CHP systems typically operate at a high capacity, meaning that they often run nearly continuously close to the level of their maximum output. Well-applied CHP systems can operate at capacity factors as high as 94-96%. A CHP unit operating at a capacity factor of 95% can reduce more GHG emissions in about six or seven years as the same capacity of zero-carbon solar photovoltaic does in 35 years.
CHP also enables renewable resources to be further integrated into the fuel mix. CHP can enable renewables as part of a microgrid, and CHP systems provide 37% of the capacity in existing microgrids. As a distributed resource serving both electric and thermal loads at the point of production, CHP can also help to support intermittent renewable resources by reducing load on the regional grid and provide a baseload source of power to serve electric demand even when intermittent renewable resources are not generating power.
The Role of Microgrids in Helping Advance the Nation's Energy System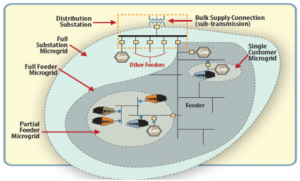 Source: U.S. Department of Energy. O"ce of Electricity. "The Role of Microgrids in Helping to Advance the Nation's Energy System." https://www.energy.gov/oe/activities/technology-development/grid-mod-ernizationand-smart-grid/role-microgrids-helping
Microgrids in the U.S. by Technology Type (% of Total Generating Capacity)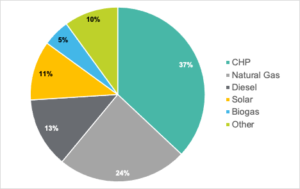 Consulted ICF Microgrid Database and determined CHP's capacity in operational microgrids.
CHP systems can utilize lower-carbon fuels to generate power and thermal energy. While the first wave of CHP technologies, "CHP 1.0," have historically relied on fossil fuels, "CHP 2.0" units can be fueled by renewable or lower-carbon fuels such as biogas, renewable natural gas (RNG) or biomethane, and hydrogen. Moreover, CHP will utilize these fuels more efficiently than other types of generation units, achieving the same energy outputs with less fuel inputs.
In addition to CHP's ability to reduce emissions, it is also a highly resilient generation resource, which is needed to ensure reliable access to electric and thermal energy. Climate scientists say climate change will exacerbate extreme weather events, which are already disrupting the electric grid. Weather-related events such as ice, high winds, flooding, and lightning strikes cause about 78% of the major power interruptions in the U.S. power distribution system.
CHP is a distributed energy resource that is highly resilient to a variety of weather events. Natural gas fueled CHP is less likely to experience impacts from a variety of disasters than other types of distributed generation. During a grid outage, CHP systems can function in "island mode," automatically separating a host facility or microgrid from the utility grid and providing consistent power and thermal energy to the facility or facilities connected to the microgrid.
Matrix of DER Vulnerability to Weather Events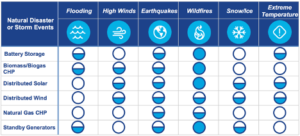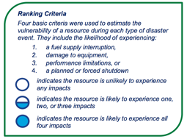 Source: Better Buildings: U.S. Department of Energy. "Issue Brief: Distributed Energy Resources Disaster Matrix." https://betterbuildingssolutioncenter.energy.gov/sites/default/files/attachments/ DER_Disaster_Impacts_Issue%20Brief.pdf
As risks of grid disruption increase due to climate change, CHP can reliably deliver power and thermal energy locally for critical infrastructure facilities, such as hospitals, military bases, and colleges and universities. Resiliency and reliability benefits of CHP are of paramount importance to hospitals and universities, especially where healthcare procedures or critical research could be compromised by a loss of power or thermal energy. Resilient medical facilities are essential at any time, and the current COVID-19 pandemic highlights the importance of emergency preparedness in hospitals and nursing homes. In order to continuously provide lifesaving services, these facilities require reliable and affordable energy resources.
Access to food supplies as well as essential health and safety products is crucial. CHP systems can help manufacturing, food processing, greenhouses, and other industrial facilities be resilient in the face of a changing climate, helping to supply food and health and safety products. As the current COVID-19 pandemic has highlighted, consistent access to food supply chains, including growing, processing, warehousing, transporting, and retailing; pharmaceutical products; and critical manufactured goods including personal protective equipment, ventilators and other medical products, and personal hygiene and cleaning supplies is essential for health and safety.
In addition, CHP's reliability benefits become even more important as the transportation and buildings sectors are electrified to reduce carbon emissions, resulting in an even greater reliance on our electric grid.
CHP is a climate change solution because it is able to not only reduce emissions, but also be a resilient resource in the face of a changing climate. The CHP Alliance also hosted a webinar on the paper. View the recording of the webinar here.
Interested in other past CHP Alliance events? Learn more about the CHP Alliance's 2020 Summit by reading our wrap-up blog posts of day 1, day 2, and day 3 of the Summit. Want to stay updated about future CHP Alliance events? Click here to be added to our mailing list.