Please Join Us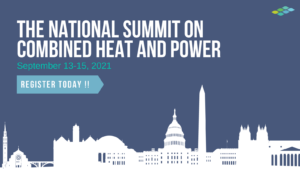 National Summit on Combined Heat and Power:
CHP in a Sustainable Future: Clean, Reliable Energy for Resilient Communities
September 13-15, 2021
The Combined Heat and Power Alliance is the leading national voice for the deployment of combined heat and power (CHP) and waste heat to power (WHP). We are a coalition of business, labor, contractor, non-profit organizations, and educational institutions who share the vision that CHP can make America's manufacturers and other businesses more competitive, reduce energy costs, enhance grid reliability and reduce emissions.
The Summit will convene a diverse group of stakeholders, including industry experts, end users and potential hosts, government leaders, policymakers, utilities, climate advocates, and other members of the clean energy community. It will be an opportunity to showcase the many benefits of CHP including reduced emissions, resilience and reliability, and economic competitiveness. The conference will be particularly focused on CHP's role in decarbonization for a low-carbon future.
To learn more about how to register or become a sponsor of the event, visit the virtual Summit website.
By The Numbers
CHP and WHP could supply 20 percent of U.S. electric capacity by 2030. At that level of deployment we could generate
1,000,000 jobs
Number of highly skilled, new jobs across the country
5 Quadrillion BTUs
Annual fuel savings, equivalent to nearly half the total energy consumption of U.S. households
200,000 megawatts
Annual power production, equal to the capacity of 400 power plants
800,000,000 metric tons
Reduction in CO2 emissions per year—the equivalent of removing more than half the current passenger vehicles from road