By Lynn A. Kirshbaum, Deputy Director of the Combined Heat and Power Alliance
This post is the third in a three-part series on the CHP Alliance's Virtual Summit.
Earlier this month, the CHP Alliance hosted its 2020 Virtual Summit: The Role of CHP in a Low-Carbon Future. The goal of the Summit was to bring together experts from across the CHP industry and beyond to talk about CHP and how it can help to reduce emissions, improve electric reliability and community resiliency, and save money. Attendees heard from over 50 speakers over the course of three days during panels, keynote addresses, and breakout sessions. Learn more about the event and our first two days by reading our day 1 and day 2 wrap-ups.
Our first event of the day was the Utility and Regulatory Perspectives panel. Public utilities can take different approaches to CHP: some may include CHP as part of their integrated resource plans (IRPs), while others may encourage customer-owned CHP projects. First, we had an overview of a new ICF study on the role of CHP in integrated resource planning. Though most utilities do not have experience including CHP in IRPs, 15 of the 34 states that have or are developing an IRP requirement mention CHP as a resource option to consider in a plan. Some states even require consideration of CHP in IRPs. We also heard an electric and gas utility perspective about innovative programs that they are deploying to advance CHP development, including case studies of two recent projects located at universities. The Chair of Michigan's Public Service Commission (PSC) discussed the innovative regulatory framework and approaches that the state has advanced. A siloed approach to evaluating the benefits of CHP and regulatory barriers can limit deployment, so the Michigan PSC has considered how to take a more wholistic approach that fully evaluates the advantages that well-designed and well-sited CHP can offer to hosts and the grid as a whole. Finally, we heard about the important role that regulatory and utility innovation could have on CHP market development into the future, including new structures that make CHP an all-around "win" for utilities, hosts, and all customers.
Next, we heard from another panel about how CHP helps to support Critical Infrastructure facilities. Critical infrastructure is defined as the "assets, systems, and networks that, if incapacitated, would have a substantial negative impact on national security, economic security, or public health and safety," and includes facilities such as hospitals, colleges and universities, military installations, wastewater treatment plants, and emergency services. CHP systems are vital to these facilities because the systems can provide continuous power and thermal energy during emergency situations and grid outages. We learned about how CHP system benefits can be valuable to critical infrastructure facilities, and heard from those in the healthcare and higher education fields about the importance of CHP to their facilities. Picking up on a theme from day 2 of the Summit, the resiliency and reliability benefits of CHP were highlighted as being of paramount importance to hospitals and universities, especially where healthcare procedures or critical research could be compromised by a loss of power or thermal energy.
During our last panel of the day, we learned about Alternative Fuels that can be used in CHP systems, in particular biogas and renewable natural gas (RNG). In addition to their high efficiency, CHP systems can further their emissions reductions by running on renewable fuels such as biogas and RNG. CHP is the most efficient way to use renewable thermal fuels because CHP systems require less fuel inputs for the same energy output when compared to other generation units. We learned about the differences between biogas and RNG and how using these fuels with CHP can help to further reduce emissions. CHP and RNG can complement each other, and CHP can help us to address our existing waste streams, including solid wastes from agriculture and landfills, as well as gas wastes. We also heard that are a variety of technologies that are available to upgrade biogas to RNG, and, tying in a theme we heard throughout the Summit, using RNG or biogas with a CHP system on-site provides resiliency benefits along with reduced emissions.
U.S. Environmental Protection Agency. "Renewable Natural Gas."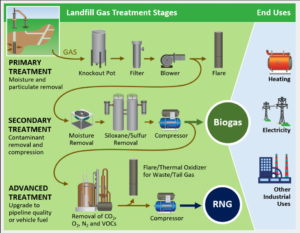 Biogas Treatment and End Users
Our last event before closing the Summit was a fireside chat with Congressman Sean Casten (D-IL). Congressman Casten noted that CHP can both reduce emissions and save money, and that doubling the efficiency of U.S. energy and figuring out how to decarbonize difficult to decarbonize industries will help to generate wealth and jobs, while make manufacturing more competitive. The theme of education from the first two days of the Summit continued, as he noted that many members of Congress have little experience in the energy sector, and especially the clean energy sector.
In closing, our Executive Director, David Gardiner, noted that he was even more optimistic about CHP's future at the end of the Summit. David emphasized how speaker after speaker reaffirmed the important role the CHP can plan in a low-carbon future, and that the proposed goal we put forward on the first day of the Summit was not only achievable, but could deliver even larger carbon reductions than we may have originally anticipated. He noted a variety of new potential and tools to drive CHP deployment that we heard about throughout the Summit, including access to new and non-traditional markets, new fuels, new technologies, engagement of electric utility companies, and active support across the political spectrum for policies that drive CHP deployment to drive down carbon emissions. In addition, various speakers highlighted the role that CHP must play in delivering reliable and resilient power as the climate changes and we see more extreme weather events that can lead to grid outages. We also heard about how CHP's reliability will be even more important as the demand for electricity increases as sectors, such as transportation, electrify to reduce their carbon emissions. It is clear that CHP has to play a significant role in our low-carbon future, delivering reliable and low-carbon power.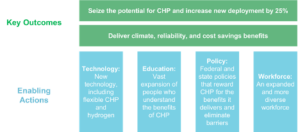 What a great final day of the Summit! We learned so much over the course of three days, hearing from government officials, end users of CHP systems, those in the nonprofit sector, electric and gas utilities, energy industry analysts, and those from across the CHP industry, including engineering, development, and financing. We look forward to continuing to bring together diverse stakeholders to discuss CHP and its benefits!
Read our summaries about day 1 and day 2 of the Summit. In addition, throughout the fall months, we will have a CHP Summit Insights series, where guest authors will share key takeaways from many of the Summit's panels and keynote addresses.  
Want to learn more about these topics? Read our previous blog posts on CHP and renewable fuels, CHP for critical infrastructure, including hospitals and nursing homes and colleges and universities, and our factsheet series on CHP for critical infrastructure.
Want to stay updated about future CHP Alliance events? Click here to be added to our mailing list.