← All Updates
Showing Off Energy Efficiency Jobs, Engaging Local Partners
By Aileo Weinmann, Program Director at Resource Media, and Jennifer Kefer, Executive Director of the Alliance for Industrial Efficiency 
As the Alliance for Industrial Efficiency continues to ramp up our state campaign work, we've been collaborating with local groups in their fights for energy efficiency policies that support good jobs. In 2017, partnering with local unions of Sheet Metal, Air, Rail & Transportation (SMART) Workers, and regional chapters of the Sheet Metal and Air Conditioning Contractors' National Association (SMACNA), we helped decision-makers understand the many facets of the energy efficiency workforce and see firsthand where the next generation of energy efficiency experts will learn the skills they need to make buildings more efficient.
Thousands of union workers are turning raw sheet metal into the ingredients of the air systems that keep our homes and businesses healthy and comfortable. These are the men and women behind welding masks who provide HVAC upgrades and maintenance, and install new systems that keep chilled air circulating through air conditioning ducts in summer, and warm air blowing in the winter.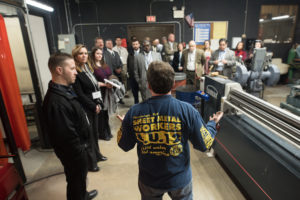 At SMART and SMACNA training facilities in Pennsylvania, Ohio and Arizona, the Alliance organized tours and roundtable discussions to show the benefits of energy efficiency for local economies, including job creation. These training facilities help workers keep up with new energy efficiency technology that can cut energy use by up to 30 percent through efficient HVAC systems. Besides hosting local and state decision-makers, the events also prompted media coverage and engagement on social media, and continue to support partner engagement months later.
In Pittsburgh, at the SMART Local 12 Training Center, Pennsylvania lawmakers attended an event showcasing how Act 129—the state's flagship energy efficiency law—helps to support in-state jobs for a variety of sheet metal workers. Ray Yeager, president and CEO of DMI Companies, the nation's largest manufacturer of ductwork components, authored a guest blog and an opinion-editorial that ran in the Pittsburgh Business Times (subscription required). Local partner Keystone Energy Efficiency Alliance produced video case studies on both DMI Companies and SMART & SMACNA. More than 62,000 Pennsylvanians are employed in energy efficiency. Check out one of these faces of energy efficiency, Franklin Shelkey, profiled in A "Lifechanging" Career Move.
In Cleveland, at the SMART Local 33 Training Center, apprentices engage in hands-on training to learn the skills necessary for careers in energy efficiency throughout northeast Ohio. Tom Martin, president of SMACNA Cleveland and owner of T.H. Martin authored a guest blog for the Alliance, and an opinion-editorial that appeared in the Cleveland Plain-Dealer. The event attracted local elected officials and was covered by Midwest Energy News. More than 78,000 Ohioans are employed in energy efficiency. Check out one of these faces of energy efficiency, Michael Savage, profiled in A Career for Today's Sheet Metal Worker.
In Phoenix, at the SMART Local 359 training center, workers from around the region learn to optimize energy use in all facets of the HVAC industry. Elected officials participated in a roundtable discussion with businesses representing all facets of the energy efficiency industry and toured the training center. Darrell Fox, vice president of Dynamic Systems, Inc., serves on the board of trustees for the Arizona Chapter of SMACNA. Fox authored a guest blog and an opinion-editorial in the Arizona Capitol Times. About 40,000 Arizonans are employed in energy efficiency. Check out one of the faces of energy efficiency, Tilden Dickson, profiled in A Career of Opportunity.
Through these successes, we're helping local groups to see their role in advocating for strong energy efficiency programs and policies, and showing decision makers what's at stake when they promote energy efficiency investments that support good jobs. We're looking forward to shining a spotlight on more of these workers and policies in 2018!