By Thomas E. Martin, President of SMACNA Cleveland and President of T.H. Martin, Inc.
More than 78,000 Ohioans are currently working in the growing energy efficiency sector, where investments support good, local jobs that can't be outsourced. Among those are thousands of workers who belong to the Sheet Metal, Air, Rail & Transportation Workers Local 33 (SMART) union and Cleveland chapter of Sheet Metal and Air Conditioning Contractors' National Association (SMACNA).
Our organizations recently hosted legislators and business leaders to highlight the benefits of energy efficiency for Ohio's economy, including good-paying jobs.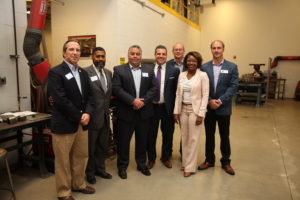 More than a dozen elected officials toured the SMART Local 33 Training Center, where apprentices engage in hands-on training to learn the skills necessary for careers in energy efficiency throughout northeast Ohio. The tour was attended by State Senate President Larry Obhof, Senate Minority Leader Fred Strahorn, Ohio House Minority Assistant Leader Rep. Nicholas Celebrezze, State Sen. Vernon Sykes, State Sen. Gayle Manning, Rep. Jack Cera, Rep. Dave Greenspan, Rep. Emilia Sykes, Rep. Tom Patton, Rep. Martin Sweeney, Rep. Sarah LaTourette, Rep. David Leland, Rep. Kent Smith, State Sen. Sandra Williams, Lakewood City Councilman-At-Large Tom Bullock and Cleveland City Council President Kevin J. Kelley. These policymakers learned firsthand about the importance of our industry to the State of Ohio.
To stay competitive, we have to keep up with new energy efficiency technology so we can offer our customers the latest options to improve comfort, efficiency and save money. Through the Training Center, our employees get the skills we need to remain on the cutting edge. The Training Center is one of only five across North America that features state-of-the-art HVAC Upgrades and balancing systems that optimize energy use in ductwork, piping, and insulation which can cut energy use by up to 30 percent through efficient heating, ventilation and air conditioning (HVAC) systems.  Our state of the art training facility is not only used locally, it is used on a regional basis to train SMACNA Contractors and employees.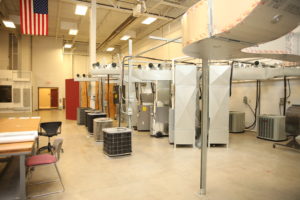 Energy efficiency drives our success at my business T.H. Martin, Inc. For example, at the Blossom Music Center, we delivered to the customer high-efficiency upgrades to the HVAC systems that keeps entertainers and the orchestra comfortable, while saving 25 percent on energy costs. At Lorain County Community College, a new building helps Culinary Education students maintains high-efficiency ventilation, kitchen exhaust equipment, and SMART HVAC Controls in the kitchen, saving the college both energy and money.
As Ohio lawmakers consider policies that can make or break investments in energy efficiency and the tens of thousands of jobs the energy efficiency sector supports, it's critical to businesses like mine that we keep moving forward.
Read more about the Sheet Metal Training Center Tour in an article from Midwest Energy News and find a copy of the press release and more photos of the event here.