Companies like Crown Battery, HARBEC, Inc., Kraton, Nissin Brake and United Technologies Corporation are saving significant money each year thanks to energy efficiency improvements made possible in part through industrial efficiency utility programs.
For U.S. industrial manufacturers, the potential savings are staggering. The manufacturing sector has the potential to invest more than $100 billion in cost-effective energy-efficiency technologies by 2020, which would result in annual energy savings of almost $50 billion.
Too few manufacturers are aware of the potential savings and the resources available through utility efficiency programs. These programs can provide resources to help nance process efficiency, motors, and energy management systems; boiler conversions; lighting retrofits; and the installation of clean and efficient Combined Heat and Power systems.
Manufacturers that have taken the step to invest in energy efficiency are already gaining impressive paybacks. On a national scale, the more than 150 manufacturing participants in the Department of Energy Better Plants program, representing 11.4 percent of U.S. manufacturing, have reported cumulative energy cost savings of $2.4 billion. Just by continuing these efforts, this group of manufacturers could save a projected $11 billion in 2020. Better Plants partners have also reported estimated cumulative avoided carbon emissions of almost 27-million metric tons, equal to the annual emissions from seven coal-fired power plants.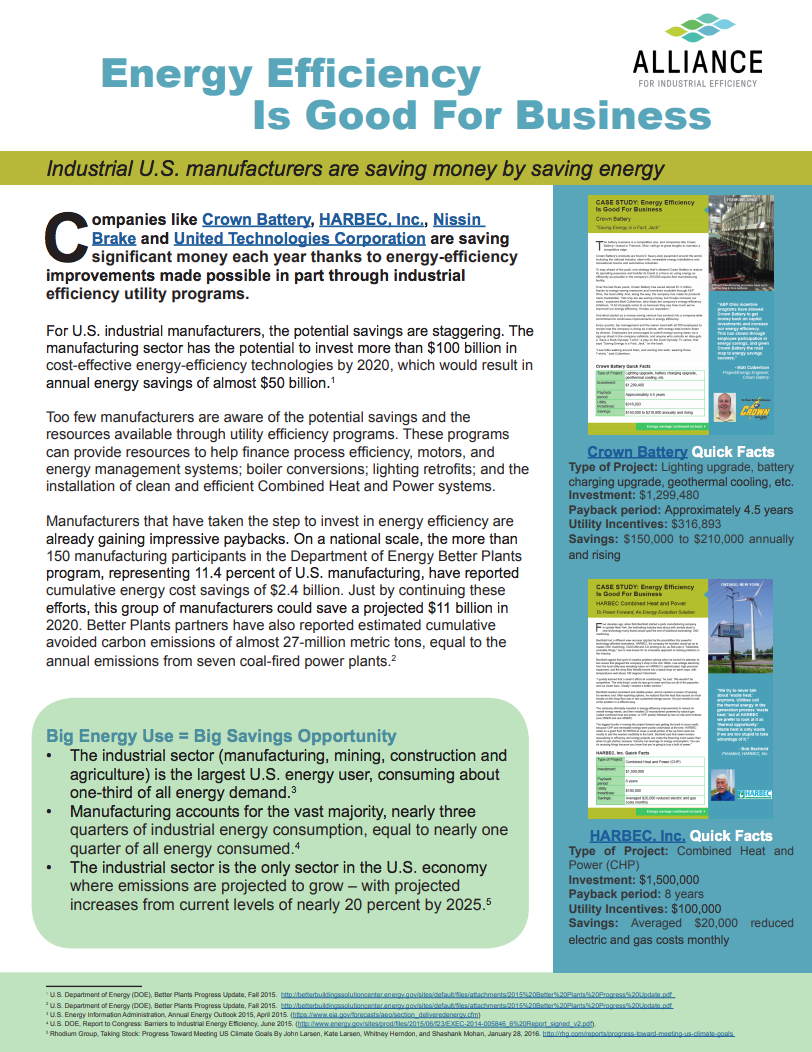 Read more in our Case Study Round Up.
Solvay Speciality Polymers USA Case Study
United Technologies Corporation Case Study