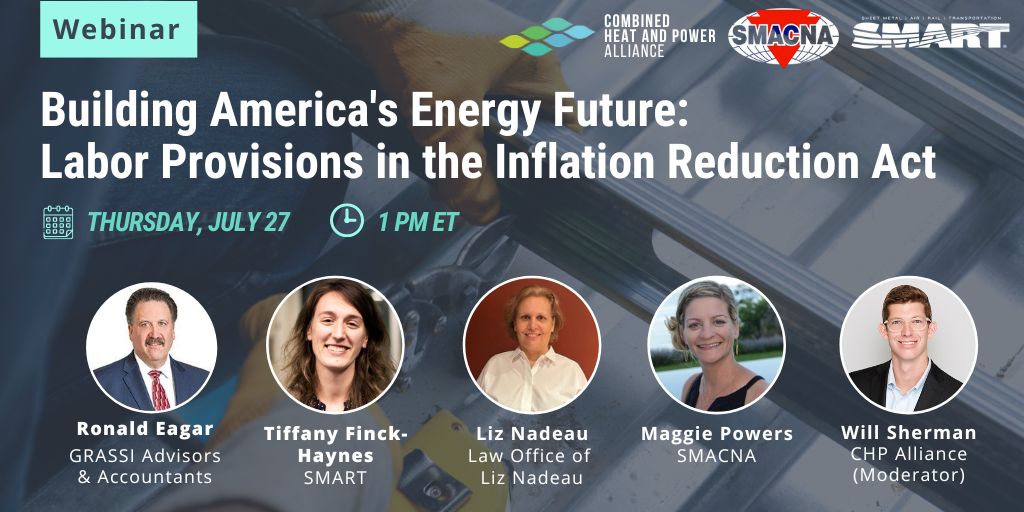 On July 27, the CHP Alliance, SMACNA, and SMART hosted a webinar on labor provisions in the Inflation Reduction Act. The IRA includes tax credits that can help deploy energy efficient and cost-effective CHP systems. This webinar will focus on specific tax deductions available to those who satisfy the IRA's prevailing wage and apprenticeship requirements.
Speakers included:
Liz Nadeau — Labor Attorney, Law Office of Elizabeth Nadeau
Ronald Eagar — Partner & Chief Operating Officer, GRASSI Advisors & Accountants
Tiffany Finck-Haynes — Government Affairs Representative, SMART
Maggie Powers — Assistant Director of Labor Relations, SMACNA
Moderated by Will Sherman — Client and Research Manager, CHP Alliance
Download a copy of the slides.
View answers to some of the questions submitted to the webinar Q&A.
View a recording of the event below and on Vimeo.