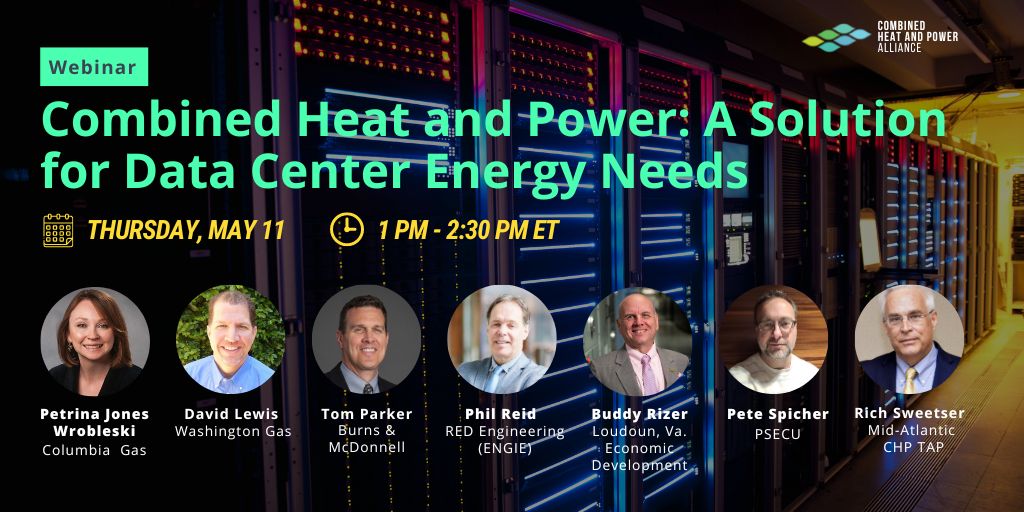 On Thursday, May 11, the CHP Alliance hosted a webinar exploring CHP as a solution for data centers energy needs. 
Worldwide, more than 8,000 data centers help to power our daily lives. But these facilities have significant energy needs, and as demands on our electric grid steadily grow and severe weather becomes more frequent, data centers are increasingly vulnerable to outages — underscoring the importance of generation that can disconnect from the utility grid. In Northern Virginia, home to the largest concentration of data centers in the world, the local electric utility has indicated that it will be unable to meet the facilities' power needs over the next several years.
Enter combined heat and power. CHP, also known as cogeneration, uses a single fuel source to generate both heat and electricity — capturing heat that would otherwise be wasted and using it to produce thermal energy. With additional equipment, CHP systems can convert wasted heat into cooling needs. These highly efficient systems can also operate as part of a microgrid, allowing them to function in "island mode" if prolonged disruptions impact the grid.
A panel of expert speakers — including representatives from utilities, end-users, and engineering firms — explored how data centers can use CHP to satisfy their short- and long-term energy and cooling needs, improve system resilience, lower costs, and reduce greenhouse gas emissions. We also highlighted case studies from organizations that use CHP to power their data centers.
Featured speakers included:
Buddy Rizer — Loudoun, Va. Economic Development
David Lewis — Washington Gas Light Company
Pete Spicher — Pennsylvania State Employees Credit Union (PSECU)
Petrina Jones Wrobleski — Columbia Gas of Virginia
Phil Reid — RED Engineering, an ENGIE Company
Richard Sweetser — DOE Mid-Atlantic CHP Technical Assistance Partnership
Thomas Parker — Burns & McDonnell
View the webinar slides here. And view a recording of the event below.
We want to express our thanks to the following companies for sponsoring this webinar: