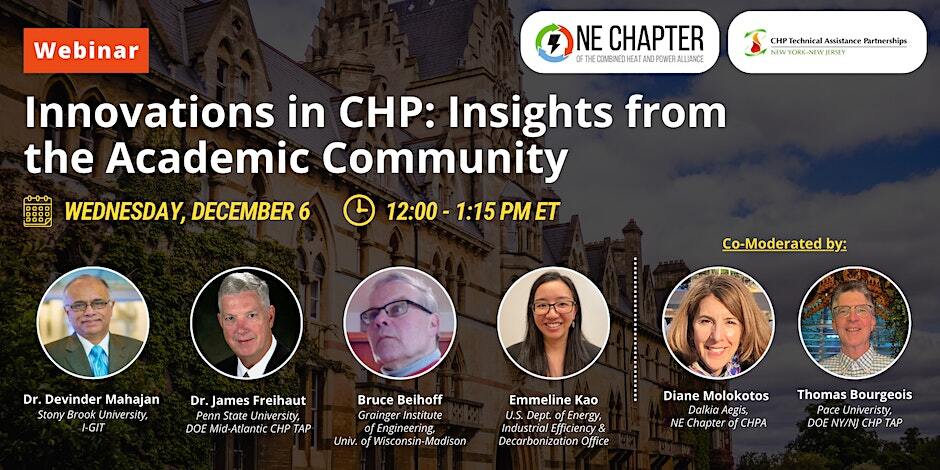 Wednesday, December 6 | 12 – 1:15 p.m. ET
Fundamental changes are occurring in energy markets, which will radically alter technologies, systems, feedstocks, and methods of performance. But the application of CHP remains part of a near-, mid- and long-term decarbonization roadmap. During this webinar, participants will learn about recent innovations with implications for CHP, so that end-users, developers, and others can be prepared for this changing future.
Topics include:
The role of hydrogen and RNG in decarbonization, and the implications for CHP
A distributed energy approach to net zero carbon infrastructure
Additive manufactured supercritical CO2 heat-to-power solution
Scheduled Speakers:
Devinder Mahajan — Professor of Chemical & Molecular Engineering, Stony Brook University & Director, Institute of Gas Innovation and Technology (I-GIT)
Jim Freihaut — Professor at Penn State University Department of Architectural Engineering & Director, U.S. DOE Mid-Atlantic CHP Technical Assistance Partnership
Bruce Beihoff — Former Technical Director, Grainger Institute of Engineering, University of Wisconsin-Madison
Emmeline Kao — Technology Manager, U.S. DOE Energy Efficiency & Renewable Energy Office
Additional speakers to come!
Moderated by Diane Molokotos and Tom Bourgeois — Northeast Chapter Steering Committee
Pricing: 
This webinar is FREE for all NE Chapter members. Please contact Ryan McDonald (rmcdonald@law.pace.edu) or William Sherman (williams@dgardiner.com) to receive your discount code.
The event fee is $60 for non-chapter members.