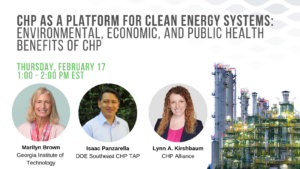 Join the Combined Heat and Power Alliance (CHP Alliance) for a free webinar on Thursday, February 17, 2022 from 1:00 – 2:00 pm ET to learn about the environmental, economic, and public health benefits of CHP in the Southeast.
Utilizing CHP in energy-intensive industries and commercial buildings will dramatically reduce GHG emissions, create new jobs and a healthier public, according to a study from the Georgia Institute of Technology's School of Public Policy. On Thursday, February 17th at 1:00 pm EST, the CHP Alliance will host a webinar featuring the study's principal investigator, Dr. Marilyn Brown, to hear more about the findings and her predictions for the present and future value of CHP systems in the state of Georgia. Participants will also hear from Isaac Panzarella, Director of DOE's Southeast CHP TAP, about the benefits that CHP is currently bringing to the Southeast and how the DOE CHP TAP program is supporting CHP projects in the region.
Marilyn Brown is a Regents' Professor in the School of Public Policy at the Georgia Institute of Technology, where she created and co-leads the Climate and Energy Policy Lab and the Master of Sustainable Energy and Environmental Management. Her research focuses on the design and modeling of energy and carbon reduction policies and programs, highlighting opportunities on the customer side of the electric meter. Using data analytics and energy-engineering-behavioral models, she examines energy technology and market transitions.
Isaac Panzarella is Assistant Director at the North Carolina Clean Energy Technology Center in Raleigh and Director of the U.S. Department of Energy's Southeast Combined Heat and Power Technical Assistance Partnership (CHP TAP).  Based at North Carolina State University, the Southeast CHP TAP provides technical assistance to the eight states of AL, FL, GA, KY, MS, NC, SC, and TN, as well as supporting Puerto Rico and the Virgin Islands.
The event will be moderated by Lynn A. Kirshbaum, Deputy Director of the CHP Alliance. Register here and visit here to read the full study, published in the Applied Energy journal.