By Jennifer Kefer, Vice President of David Gardiner and Associates and Executive Director of the Alliance for Industrial Efficiency. This blog post originally appeared on the David Gardiner and Associates website.
President Trump has vowed to make American companies and manufacturing stronger and more competitive. However, on March 28, the President signed an executive order, "Promoting Energy Independence and Economic Growth," beginning the process of rolling back the Clean Power Plan. While the executive order is explicitly intended to promote economic growth, it misses a significant opportunity to do so by making American manufacturers more competitive.
Energy efficiency is the secret weapon that can make President Trump's promise to make American manufacturing more competitive a reality, while also cutting carbon emissions. In fact, energy efficiency already supports 2.2 million jobs nationwide, including thousands of jobs in each and every state in America. What's more, since energy use in the manufacturing sector accounts for roughly 24 percent of all U.S. energy consumption (the industrial sector as a whole accounted for 32% of all energy consumption), the opportunity for savings is large.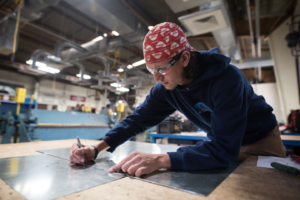 A sheet metal apprentice preparing for high-paying, skilled energy efficiency jobs at a sheet metal training center in Pittsburgh for an event organized by the Alliance for Industrial Efficiency and our allies in Pennsylvania  
Kraton Polymers realized the value of energy efficiency first hand. This Ohio-based manufacturing company took advantage of incentives offered by its local utility, replaced outdated boilers with two natural gas CHP systems, and is now producing one-third of its energy for free—all while reducing air pollutants by more than 96 percent. By slashing its energy costs, Kraton Polymers is better equipped to compete in a global market.
Several studies confirm that industrial energy efficiency can make American manufacturers more competitive by cutting costs and carbon emissions. A recent analysis by the Alliance for Industrial Efficiency found that nationwide, industrial efficiency could reduce annual carbon emissions by about 175 million tons in 2030, the equivalent of 46 coal-fired power plants, while saving businesses $298 billion from avoided electricity purchases. Additionally, a 2015 U.S. Department of Energy (DOE) report found that energy use could be reduced 15 to 32 percent by 2025 as a result of efficiency improvements, making a sizeable dent in industry's $200 billion annual energy bill.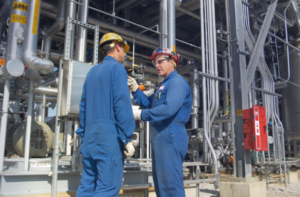 Kraton operators overseeing safe operations of a recently completed combined heat and power project, featured in an Alliance for Industrial Efficiency case study 
Kraton Polymers is not alone. Indeed, many manufacturers are already investing in energy efficiency, saving money and reducing pollution. 190 companies, ranging from small, single-facility operations with annual energy budgets of less than $1 million to members of the Fortune 100 with annual spending in the hundreds of millions of dollars, have signed on to DOE's Better Buildings, Better Plants Program and Challenge. These participants, who represent more than 11.4 percent of U.S. manufacturing, have committed to reducing energy use in their facilities by 25 percent over 10 years. As of 2016, Better Plants partners have reported $3.1 billion in cumulative energy cost savings and carbon emission reductions equal to seven coal-fired plants. 3M, Johnson & Johnson, Nissan, Procter & Gamble, Sherwin Williams, Toyota, UTC, and Volvo (to name a few) have already met their goal, demonstrating that these efficiency targets are realistic and achievable. UTC, one of the first companies to sign on as a Better Plants Partner when the program first launched, has invested more than $125 million in efficiency projects across its operations between 2007 and 2010, with average paybacks of just two-and-a-half years. Rick Bennett, Vice President of UTC Environment, Health & Safety, said: "Energy conservation is critical to UTC's success—it's a driver for improved productivity.
However, key barriers stand in the way of industrial efficiency and its benefits. According to a congressionally mandated 2015 DOE report, there are three main obstacles that stand in the way of improved industrial efficiency: (1) internal competition for capital, (2) a business model for electric utilities that fails to reward customer efficiency, and (3) internal informational barriers.
To break these barriers, policy makers should step up their focus on industrial efficiency and adopt new incentives to make American manufacturers more competitive. Industrial efficiency should be a key focus for any infrastructure proposal. Moreover, policy makers should expand utility incentives aimed at improving industrial efficiency. Additionally, all manufacturers should commit to improving their energy productivity by 25 percent over 10 years, as have the companies in the DOE Better Plants Program.
States should continue to promote industrial energy efficiency. Under the Clean Power Plan, the EPA gave states broad authority to consider industrial efficiency as a compliance option. While the Administration chooses to forego this driver of state action, states and local governments should continue invest in industrial energy efficiency to not only reduce carbon emissions, but also to create jobs, make manufacturers more competitive, improve local economies, and make the grid more resilient.
Learn more about the potential for industrial efficiency to save money and create jobs from the Alliance for Industrial Efficency case studies.