WASHINGTON D.C. – The Combined Heat and Power Alliance today announced it had awarded its 2022 CHP Project of the Year Award to the Hewlett Packard Enterprise CHP plant in Aguadilla, Puerto Rico.
"The Combined Heat and Power Alliance is thrilled to announce this award to Hewlett Packard Enterprise for its CHP plant in Aguadilla, Puerto Rico," said David Gardiner, Executive Director of the Combined Heat and Power Alliance. "This innovative project reduces carbon emissions, saves money, and provides continuous power during hurricanes such as Fiona in September this year. Puerto Rico and other hurricane-prone areas should install projects just like it."
On November 3, the Combined Heat and Power Alliance presented Hewlett Packard Enterprise (HPE) and Accurate Solutions Corporation with a 2022 CHP Project of the Year Award at the annual National Summit on CHP, held in Washington D.C. Accurate Solutions Corp. executed the CHP project at the HPE facility in Aguadilla, Puerto Rico on a Design-Build-Operate-Maintain delivery model, using two (2) Innio Jenbacher Engines supplied by AB Energy USA. The project includes two 2-megawatt (MW) engines, absorption cooling, a battery electric storage system, and continuous island capabilities.
A particularly important reason this project is so deserving of this award is the resiliency and reliability benefits the system provides HPE. Because it produces its own power, the HPE facility was able to remain operational during Category 4 Hurricane Fiona that caused devastating damage across Puerto Rico this past September, due to the islanding abilities of the CHP system.
The CHP system also helps HPE with achieving its carbon reduction goals. The engines are currently being fueled by landfill natural gas and are liquid petroleum gas capable, and will soon be fueled by renewable natural gas locally-sourced in Puerto Rico, with expected availability as soon as Q1 of 2023.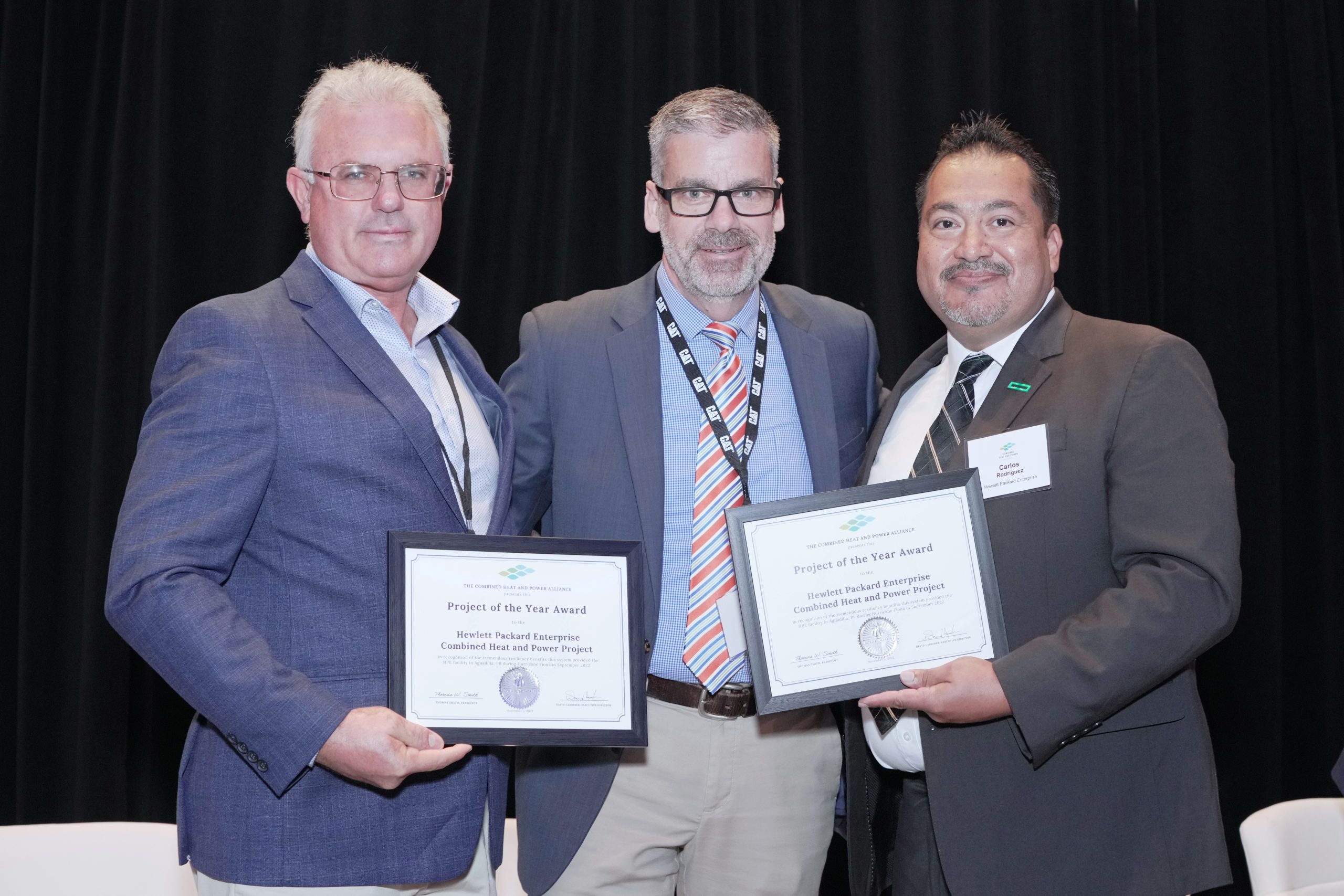 Kevin O'Connell, Advanced Energy Systems Manager for Michigan CAT & MacAllister Machinery, presented the award at the Summit and welcomed Carlos Rodriguez, Director of Operations and General Manger for HPE Puerto Rico Manufacturing Operations, and Roberto Acosta, President of Accurate Solutions Corporation, to jointly accept the honor, each making brief remarks on the significance of this CHP project and the benefits it brings the facility and the Puerto Rican community.
###
About the Combined Heat and Power Alliance
The Combined Heat and Power Alliance (CHP Alliance) is the leading national voice for the deployment of combined heat and power (CHP) and waste heat to power (WHP). We are a coalition of businesses, labor, contractors, non-profit organizations, and educational institutions with the common purpose to educate all Americans about CHP and WHP, and how CHP and WHP can make America's manufacturers and other businesses more competitive, reduce energy costs, enhance grid reliability, and reduce emissions. More information is available at https://chpalliance.org/.
Media Contact:
Sabreen Ahmed, Research Associate
770-576-5343 (c)
About Hewlett Packard Enterprise
Hewlett Packard Enterprise (NYSE: HPE) is the global edge-to-cloud company that helps organizations accelerate outcomes by unlocking value from all of their data, everywhere. Built on decades of reimagining the future and innovating to advance the way people live and work, HPE delivers unique, open, and intelligent technology solutions as a service.  With offerings spanning Cloud Services, Compute, High Performance Computing & AI, Intelligent Edge, Software, and Storage, HPE provides a consistent experience across all clouds and edges, helping customers develop new business models, engage in new ways, and increase operational performance. For more information, visit: www.hpe.com
Media Contact:
Monica Markov, Head of State & Local Government Affairs
832-502-0660
About Accurate Solutions Corporation
Accurate Solutions Corp is a Puerto Rico corporation with a unique combination of integrated offerings, including; engineering services, custom fabrication and electrical equipment and distributed energy. Since 1995, Accurate have pioneered the adoption of Photovoltaics, Combined Heat and Power (CHP), Energy Storage Systems, Distributed Control Systems and emerging technologies. Accurate Solutions has led the PR Energy Transformation with design, built, operate and/or maintain models achieving the most efficient and reliable power plants in PR. Accurate Solutions partnered with AB for the execution of the project. AB is a global leader in the supply and maintenance of Cogeneration systems, with over 1,500 systems delivered and a workforce of over 1,100 employees operating in over 20 countries. Accurate Solutions & AB are passionate about delivering Cogeneration projects that contribute to a cleaner, safer, more sustainable and resilient society for todays and future generations.
Media Contact: www.accurate.works and www.gruppoab.com.