WASHINGTON D.C.— "The Combined Heat and Power Alliance is proud to award its 2022 CHP Project of the Year Award to the Duke Energy CHP system at Purdue University," said David Gardiner, Executive Director of the Combined Heat and Power Alliance. "Using a collaborative approach, Duke Energy and Purdue University developed an innovative CHP project which will lower energy costs, cut carbon emissions, and deliver reliable power and heat for the campus and the local Lafayette community."
On November 3rd, the Combined Heat and Power Alliance presented Duke Energy and Purdue University with a 2022 Combined Heat and Power (CHP) Project of the Year Award at the annual National Summit on CHP, held in Washington D.C.. Duke Energy built, owns, and operates a 16-megawatt (MW) CHP turbine on the West Lafayette campus of Purdue University. All the power from the system goes to Duke Energy with Purdue University purchasing all the steam produced under a long-term agreement. The system exceeds 75% HHV efficiency, produces up to 150,000 pounds of steam per hour, and is projected to reduce CO2 emissions by approximately 50,000 tons. This collaboration provides a low-cost generation resource for all Duke Indiana customers as the steam payment by Purdue is credited to fuel costs benefiting all of Duke Energy Indiana's customers. The plant will also improve the stability and reliability of the electric grid serving the Lafayette/West Lafayette area by having a local source of power generation.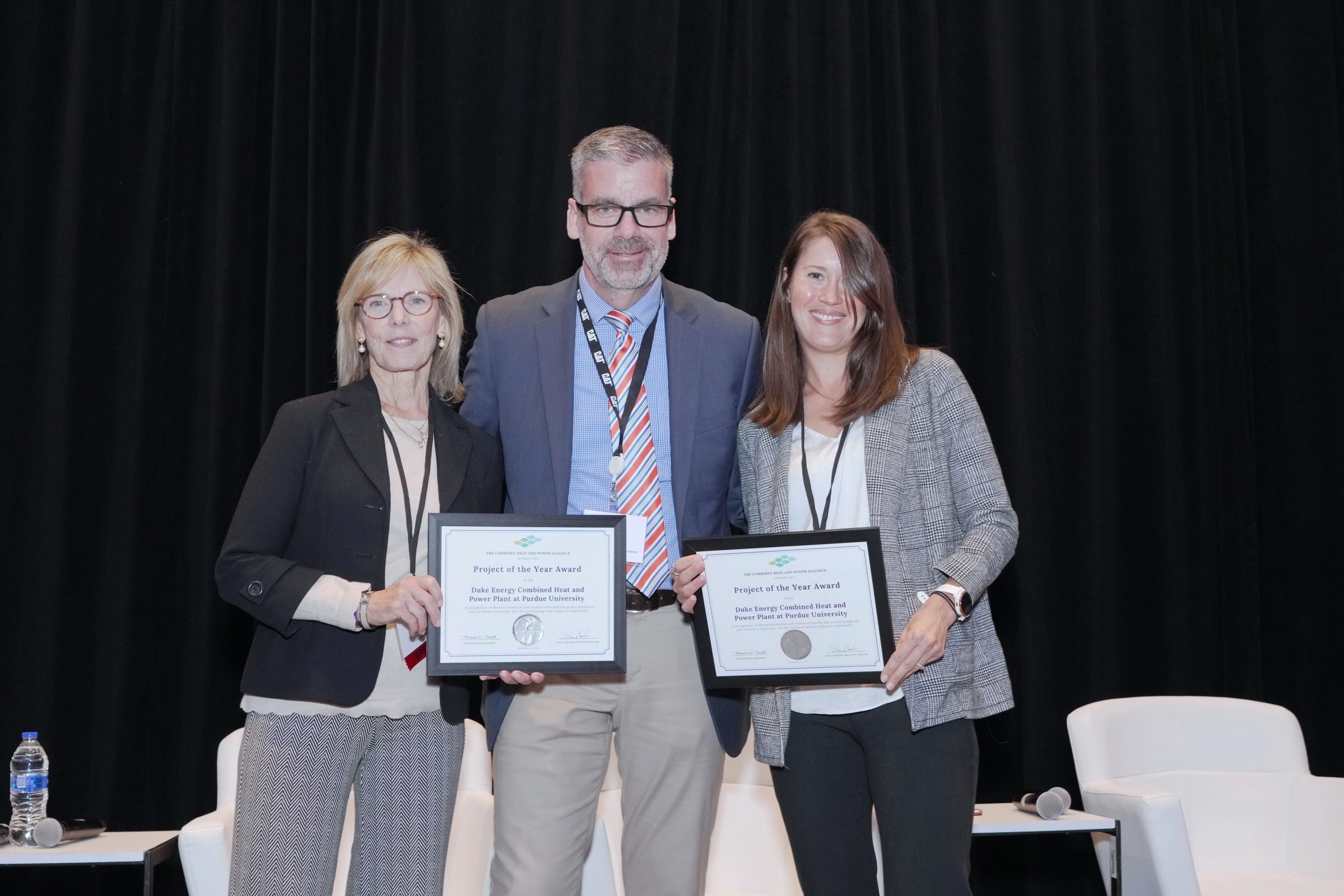 Kevin O'Connell, Advanced Energy Systems Manager for Michigan CAT & MacAllister Machinery, presented the award at the Summit and welcomed Sarah Adair, Director of Public Policy at Duke Energy, and Deborah Hohlt, Federal Representative for Purdue University, to jointly accept the honor, each making brief remarks on the significance of this collaborative CHP project and the benefits it brings the university and the community.
###
About the Combined Heat and Power Alliance
The Combined Heat and Power Alliance (CHP Alliance) is the leading national voice for the deployment of combined heat and power (CHP) and waste heat to power (WHP). We are a coalition of businesses, labor, contractors, non-profit organizations, and educational institutions with the common purpose to educate all Americans about CHP and WHP, and how CHP and WHP can make America's manufacturers and other businesses more competitive, reduce energy costs, enhance grid reliability, and reduce emissions. More information is available at https://chpalliance.org/.
Media Contact:
Sabreen Ahmed, Research Associate
770-576-5343
About Duke Energy Indiana
Duke Energy Indiana, a subsidiary of Duke Energy, provides about 6,300 megawatts of owned electric capacity to approximately 880,000 customers in a 23,000-square-mile service area, making it Indiana's largest electric supplier.
Duke Energy (NYSE: DUK), a Fortune 150 company headquartered in Charlotte, N.C., is one of America's largest energy holding companies. Its electric utilities serve 8.2 million customers in North Carolina, South Carolina, Florida, Indiana, Ohio and Kentucky, and collectively own 50,000 megawatts of energy capacity. Its natural gas unit serves 1.6 million customers in North Carolina, South Carolina, Tennessee, Ohio and Kentucky. The company employs 28,000 people.
Duke Energy is executing an aggressive clean energy transition to achieve its goals of net-zero methane emissions from its natural gas business by 2030 and net-zero carbon emissions from electricity generation by 2050. The company has interim carbon emission targets of at least 50% reduction from electric generation by 2030, 50% for Scope 2 and certain Scope 3 upstream and downstream emissions by 2035, and 80% from electric generation by 2040. In addition, the company is investing in major electric grid enhancements and energy storage, and exploring zero-emission power generation technologies such as hydrogen and advanced nuclear.
Duke Energy was named to Fortune's 2022 "World's Most Admired Companies" list and Forbes' "World's Best Employers" list. More information is available at duke-energy.com.
Media Contact:
McKenzie Barbknecht, Corporate Communications
mckenzie.barbknecht@duke-energy.com
800-559-3853
About Purdue University
Purdue University is a top public research institution developing practical solutions to today's toughest challenges. Ranked in each of the last five years as one of the 10 Most Innovative universities in the United States by U.S. News & World Report, Purdue delivers world-changing research and out-of-this-world discovery. Committed to hands-on and online, real-world learning, Purdue offers a transformative education to all. Committed to affordability and accessibility, Purdue has frozen tuition and most fees at 2012-13 levels, enabling more students than ever to graduate debt-free. See how Purdue never stops in the persistent pursuit of the next giant leap at https://stories.purdue.edu.
Media Contact:
Rebecca Terry, Director of Communications
765-413-5103