By Lynn A. Kirshbaum, Deputy Director 
We know from climate scientists that our climate is changing, and that "[a] changing climate leads to changes in the frequency, intensity, spatial extent, duration, and timing of weather and climate extremes, and can result in unprecedented extremes." Weather events impact the electric grid: extreme weather is the leading cause of electric power outages, especially for the most significant disruptions.
Weather-related events such as ice, high winds, flooding, and lightning strikes cause about 78 percent of the major power interruptions in the U.S. power distribution system. A 2020 analysis of national power outage data shows a 67 percent increase in major power outages from weather-related events since 2000. This increased frequency and intensity of extreme weather events raises concerns about the resiliency of the electric grid to both present and future climate and weather events.
Wildfires in California, Hurricane Harvey, Superstorm Sandy, and the recent severe winter weather in Texas that left nearly 4.5 million customers without electricity all highlight the impact that weather events can have, and the importance of a resilient electric grid.
CHP's high level of resiliency can help facilities to maintain operations during a severe weather event. According to the latest National Climate Assessment, climate-related impacts increase risks for critical, interconnected systems, many of which span regional and national boundaries. Investing in smaller grid structures powered by clean energy sources, such as microgrids powered by CHP systems, can help to mitigate these risks.
CHP is a distributed energy resource that is highly resilient to a variety of weather events. Natural gas fueled CHP is less likely to experience impacts from a variety of disasters than other types of distributed generation. During a grid outage, CHP systems can function in "island mode," automatically separating a host facility or microgrid from the utility grid and providing consistent power and thermal energy to the facility or facilities connected to the microgrid.
Matrix of DER Vulnerability to Weather Events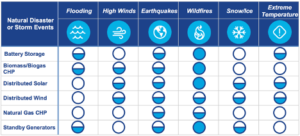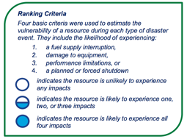 Source: Better Buildings: U.S. Department of Energy. "Issue Brief: Distributed Energy Resources Disaster Matrix."
Microgrids strengthen grid resilience and mitigate grid disturbances for end users by localizing power generation close to critical services and providing faster system response and recovery. As of 2016, CHP was the primary generation technology for existing microgrids and is expected to be implemented in future microgrid projects. CHP currently provides 37 percent of the capacity in existing microgrids.
Microgrids are used by critical infrastructure facilities such as universities, military installations, municipalities, and public institutions, helping to maintain the reliability of their electric and thermal energy supply and to improve their resiliency against extreme weather and power outages. In some locations, a number of critical facilities such as hospitals, fire and police stations, emergency shelters, and gas stations can be connected and configured to operate in isolation from the larger utility grid, even during extended outages.
CHP systems can also help manufacturing, food processing, greenhouses, and other industrial facilities be resilient in the face of a changing climate, helping to supply food and health and safety products. Numerous case studies demonstrate that CHP's high level of resiliency can help facilities maintain operations during severe weather events, and some are already emerging as a result of Texas's recent severe weather event.
Learn more about CHP's resiliency benefits by reading our report, CHP and a Changing Climate: Reducing Emissions and Improving Resilience.
Learn more about CHP's role in microgrids by reading our recent blog post.
 Stay updated about future CHP Alliance events by clicking here to be added to our mailing list.