One of the highlights of the National Summit on Combined Heat and Power on November 3 was getting to honor those making an impact in the CHP industry. Please join us in celebrating the winners of the CHP Alliance's Congressional Champion, Lifetime Achievement, CHP Champion, and Outstanding Young Professional awards.
Senator Ron Wyden (D-OR) — 2022 CHP Congressional Champion Award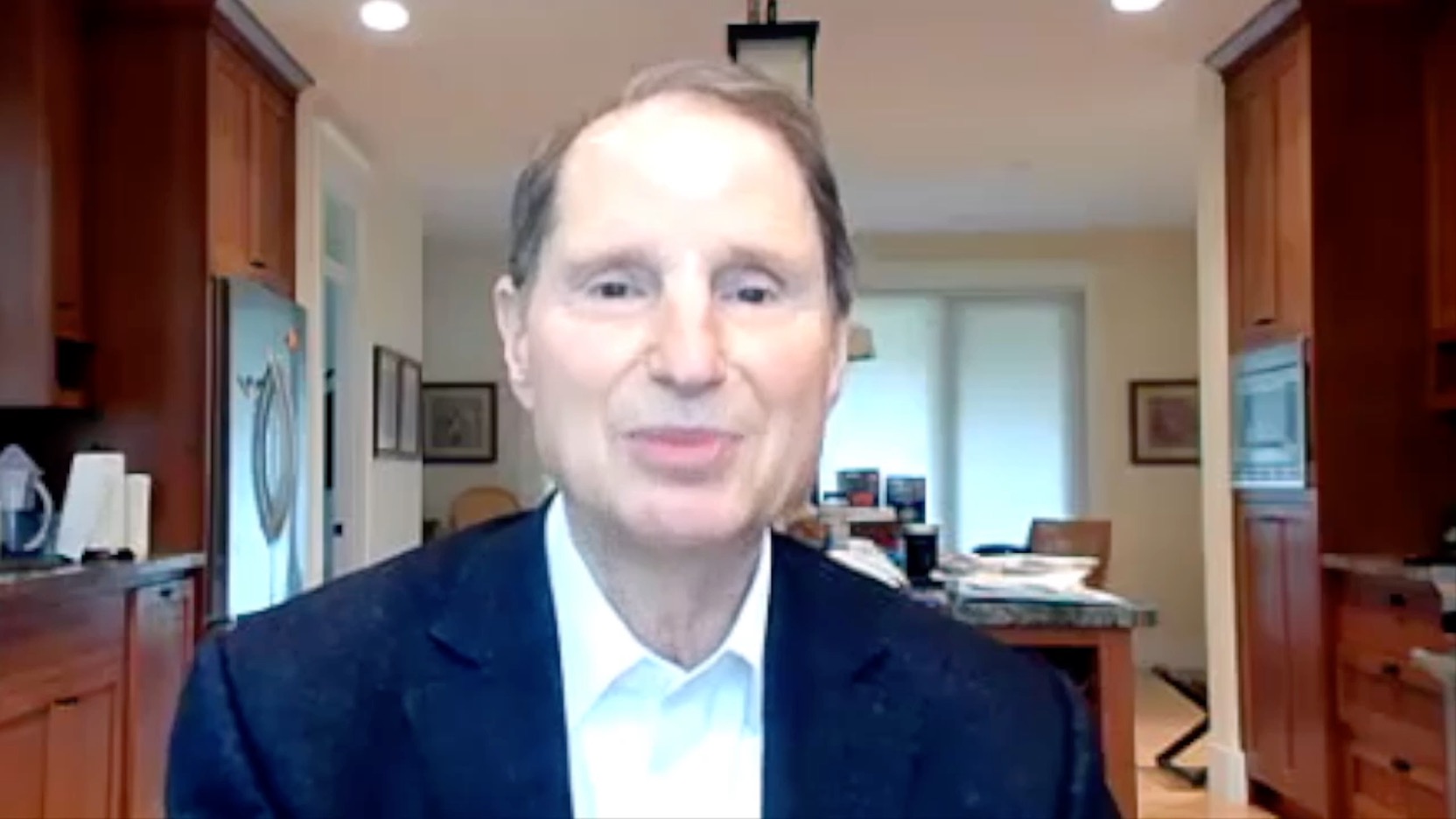 Senator Ron Wyden has been a champion for clean energy and energy efficiency in Congress. The development of the clean energy tax incentive framework in the Inflation Reduction Act reflects over a decade of effort. Sen. Wyden has long championed the idea of technology-neutral tax incentives to reward the development of existing clean technologies while still encouraging innovation.
Sen. Wyden, and many of his colleagues on the Senate Energy and Natural Resources Committee, have been supportive of Department of Energy (DOE) programs like the CHP TAPs, which provides valuable technical assistance to energy consumers and helps ensure America's CHP industry remains dynamic and competitive.
"I am proud to recognize his leadership promoting greater national use of clean, efficient, and reliable combined heat and power," said Katie Cullen, founder of SC Partners, who presented the award to the Senator.
In a recorded video message, Sen. Wyden said the IRA may be the most significant bill of his time in public service. "This bill will reduce energy costs, secure our energy supply, and drastically cut carbon emissions, and it'll do it by using the tax code, for the first time, to reward emissions reduction, and it will encourage the introduction of new clean energy technology as soon as it's ready to come online."
Robert Gemmer — 2022 CHP Lifetime Achievement Award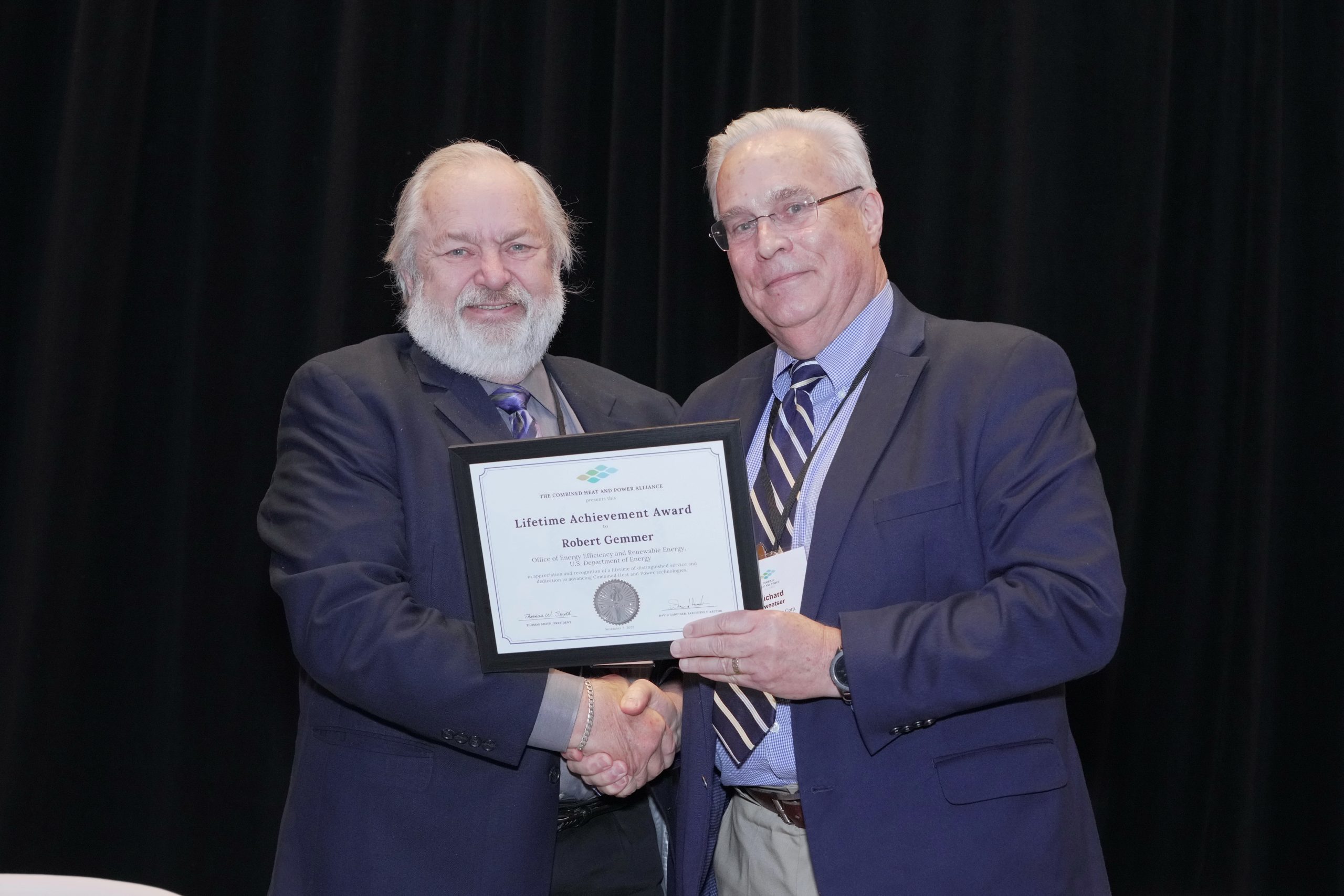 Robert (Bob) Gemmer is a technology manager in the Department of Energy's Advanced Manufacturing Office (AMO), where he manages AMO's combined heat and power portfolio. He was the DOE lead for the CHP Deployment Program in the late 2000s through 2011 and managed several research & development efforts that helped improve CHP products and systems. Mr. Gemmer came to DOE after nearly 15 years with the Gas Research Institute in Chicago.
"Bob has been an avid supporter of CHP within DOE for many years," said Rich Sweetser, president of Exergy Partners, who presented the award to Mr. Gemmer. "His last day at DOE was this past Monday — Congratulations on a well-deserved retirement!"
Al Clark — 2022 CHP Champion Award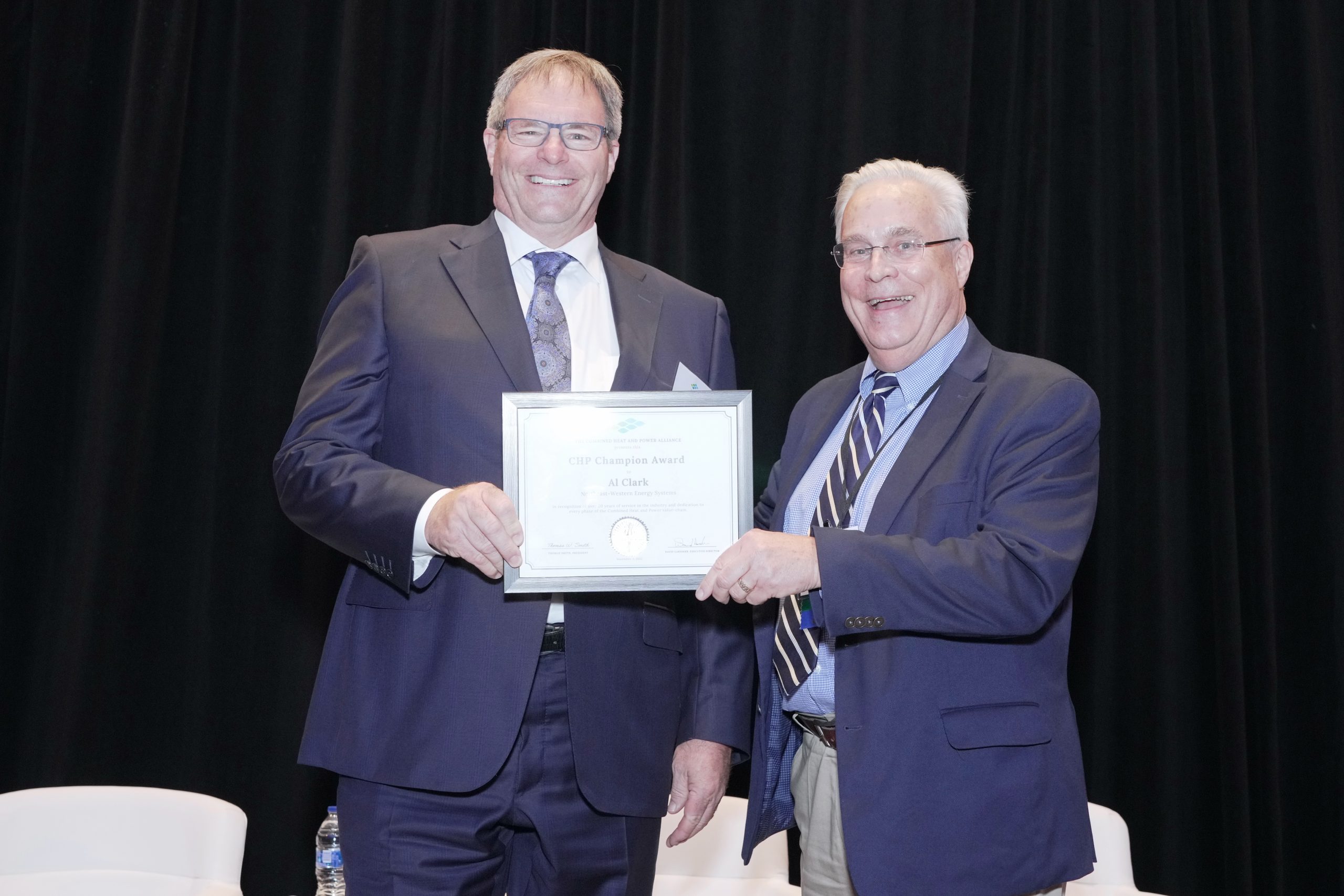 Al Clark is the CEO of Northeast-Western Energy Systems, which was established in 2004 as Jenbacher's first distributor in North America. He first joined INNIO's Penn Power in 1994 to lead the company's power and industrial business units. Over 20 years, his career in the CHP industry has spanned business development, application engineering, and product support, as well as financial management.
"Al is a hands-on leader who has successfully developed and grown businesses in heavy-duty industrial, power generation, marine and highway transportation industries," Rich Sweetser said. "Al is passionate about the CHP space and is known for getting involved in all aspects of a CHP project's lifecycle."
Chairman Dan Scripps — 2022 CHP Champion Award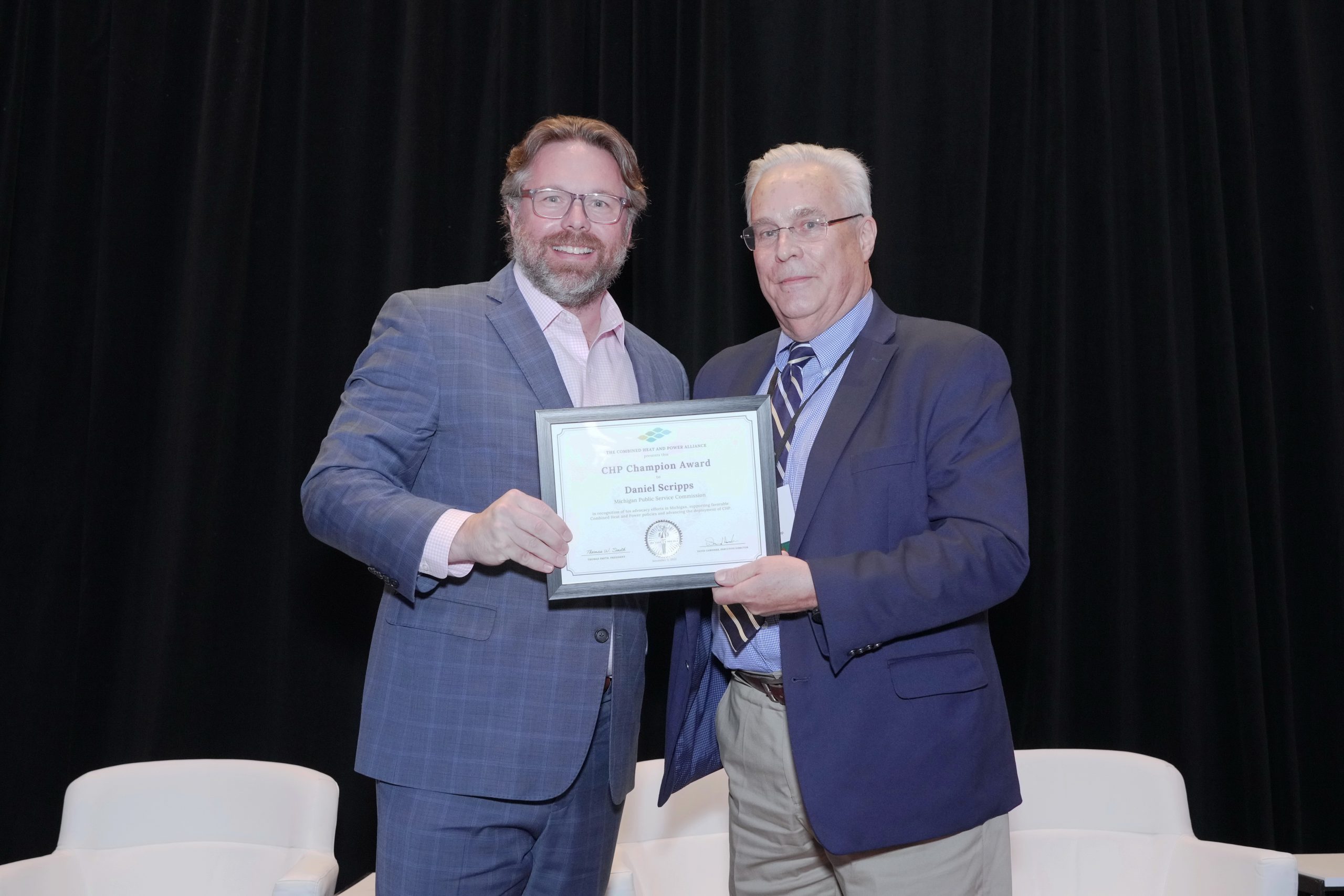 Dan Scripps was appointed by Governor Gretchen Whitmer to the Michigan Public Service Commission in February 2019 and named chair in July 2020. He also serves on the Michigan Council on Climate Solutions and numerous organizations related to electric utilities and transmission, including the board of directors for NARUC.
"Dan has been an advocate for CHP in the various public positions he has held over the years. His commitment to advanced energy systems, including CHP, is now translating to favorable CHP policies in Michigan," Rich Sweetser said.
Edward Machado — 2022 Outstanding Young Professional Award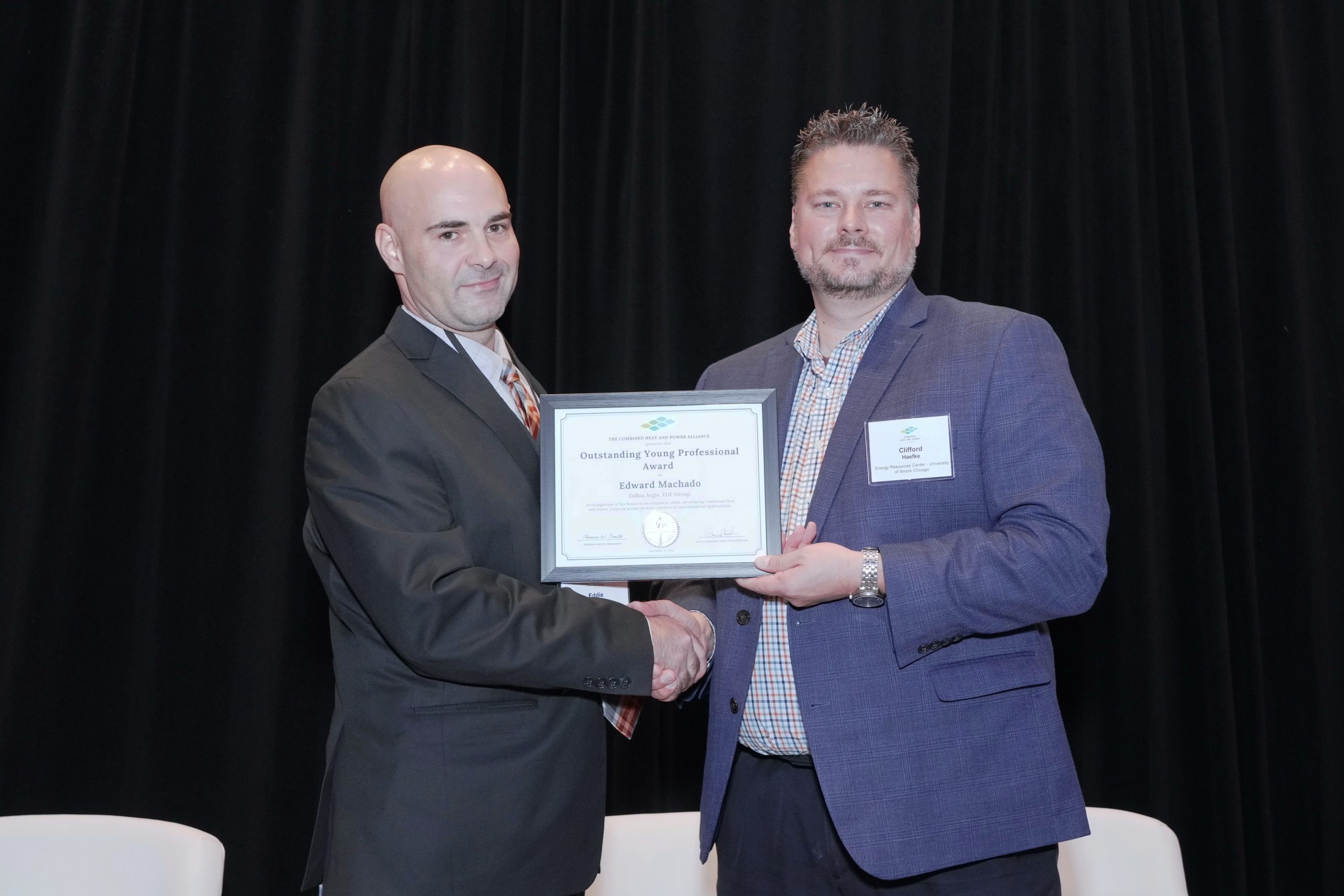 Edward (Eddie) Machado is a business development manager with Dalkia Aegis, EDF Group where he works with large consumers to offer energy solutions using combined heat and power. Mr. Machado stepped into this role in 2021, and already he's made a huge impact.
"Over that last one and half years, Eddie has managed to develop six CHP projects including a housing authority, rehabilitation and nursing facilities, multi-family and hotel projects," said Cliff Haefke from the Midwest Cogeneration Association and the Energy Resources Center at the University of Illinois-Chicago, who presented the award to Mr. Machado at the CHP Summit. "He has demonstrated an ability to understand, articulate and promote the manifold benefits of CHP and is more than deserving of this award."
Matthew Nyquist — 2022 Outstanding Young Professional Award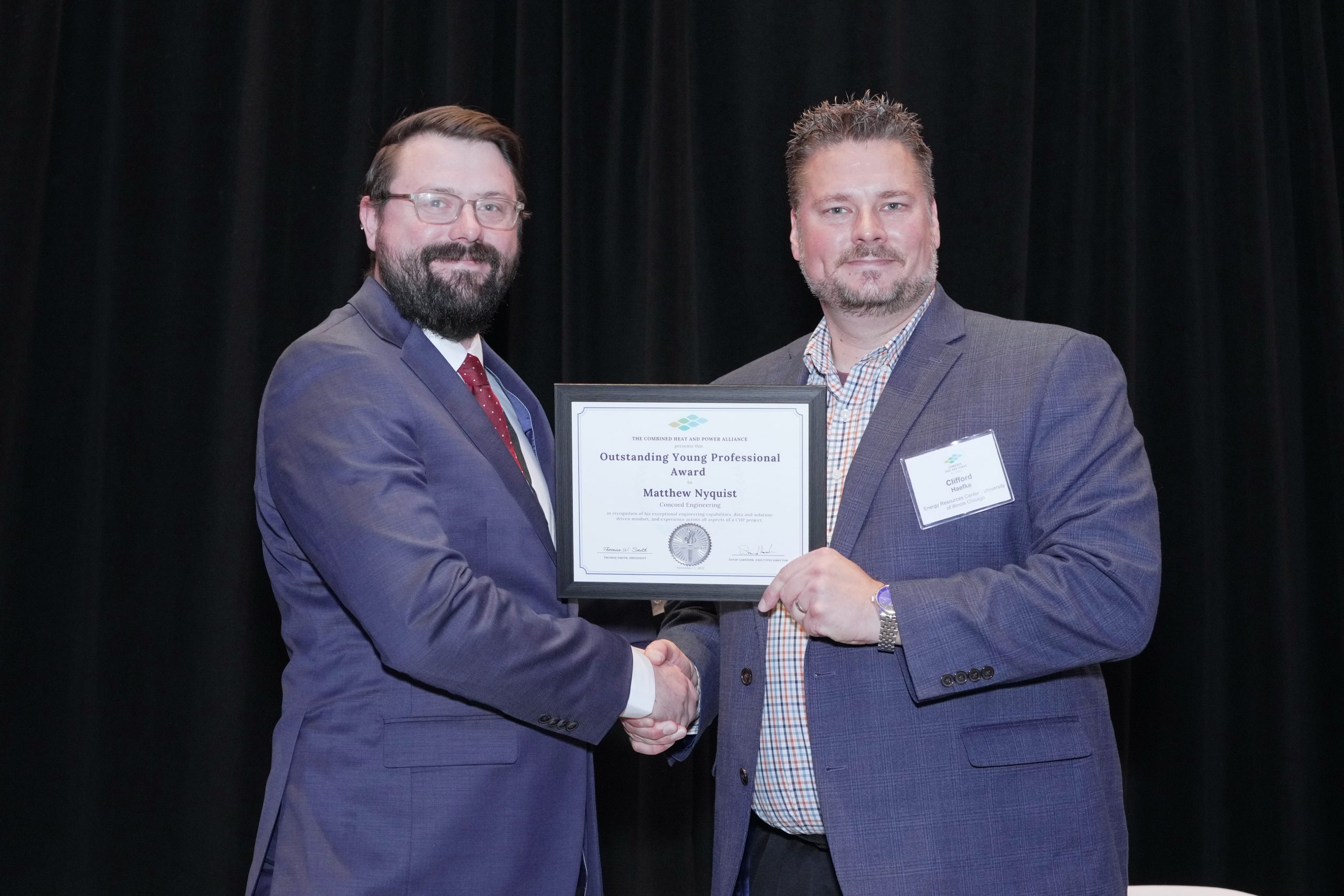 Matthew Nyquist, P.E. is the director of Concord Engineering's Power and Infrastructure Group where he manages microgrid, CHP, and thermal energy infrastructure projects for a wide range of industries including the Department of Defense, industrial manufacturing, health care, higher education, and life sciences.
"Matt represents the best of what we want from an engineer in the CHP community. Like many engineers, Matt is practical and data driven; however, what differentiates Matt is his collaborative approach," said Cliff Haefke. "He is always looking to solve challenges in a way that brings others with him and gives the customer the best solution possible."
Graeme Miller — 2022 Outstanding Young Professional Award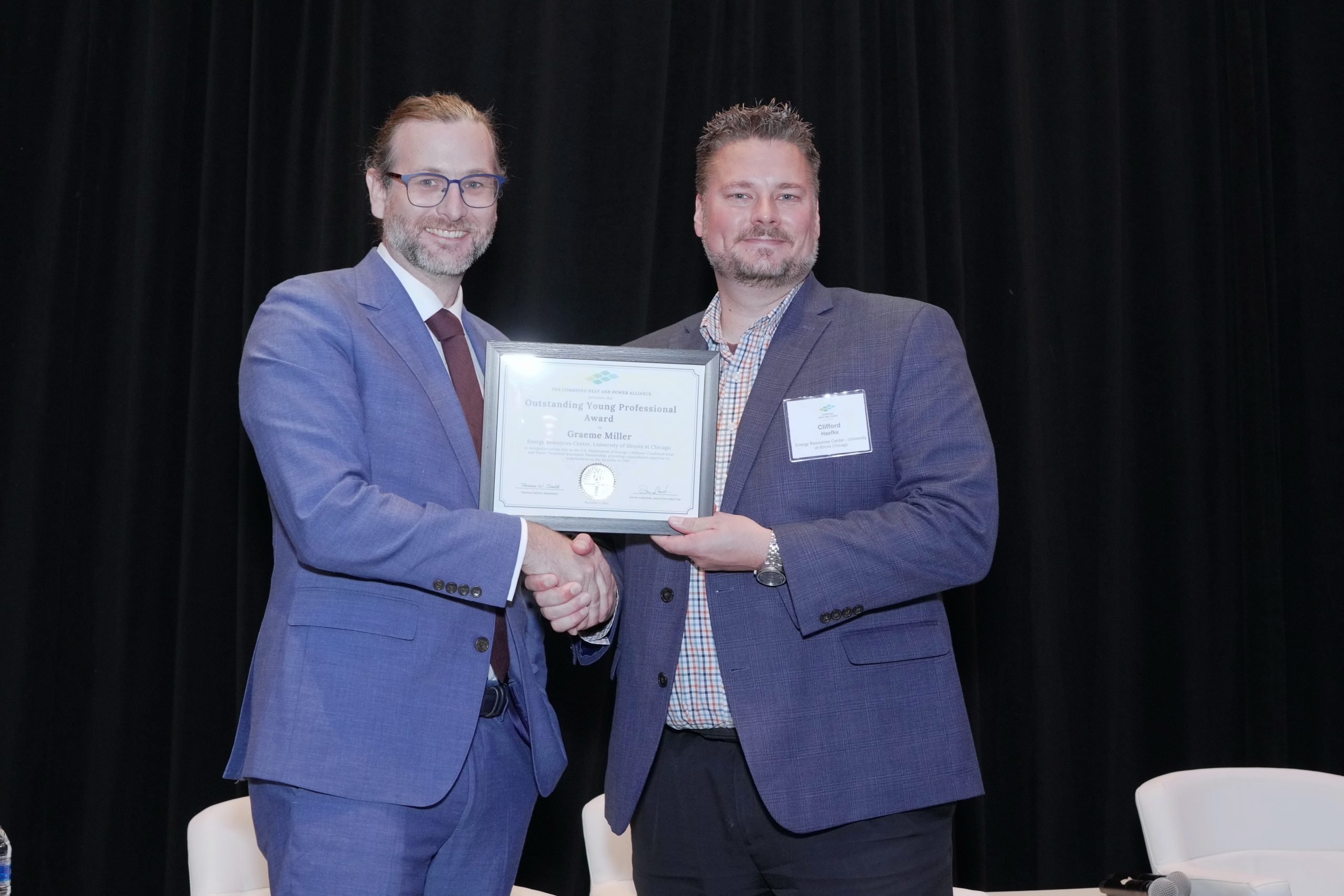 Graeme Miller is a Senior Research Specialist with the Energy Resources Center at the University of Illinois-Chicago. At the center, he serves as assistant director of the U.S. Department of Energy's Midwest Combined Heat and Power Technical Assistance Partnership where he leads technical assistance and stakeholder engagement activities. In his decade-plus tenure at ERC, Mr. Miller has collaborated with the Michigan Public Service Commission, the Iowa Utilities Board, the Illinois EPA and more. His research is focused on creating a methodological framework for assessing and categorizing carbon emissions savings from CHP.
"Graeme's contributions and passion for helping the industry understand the opportunities and benefits of CHP and how CHP can be a solution in helping the nation decarbonize make him a stellar candidate for this award," said Cliff Haefke.
Congratulations to all of our winners! Thank you for all you do to promote CHP and the ways it can benefit energy efficiency and decarbonization.